Do you feel that your home's air conditioner isn't performing as well as it once did?
Before you go out and buy a new one, ask yourself if you are properly maintaining your current one. Have you done any air conditioner cleaning in the last month or so? According to experts, we should clean our air conditioners at least once a year.
A well-maintained air conditioner may last and keep your family healthy. If not, it's time to clean your air conditioner. It may seem not easy to complete this assignment, but you will be able to do it with our simple guidelines.
Maintaining high air quality in your house necessitates cleaning your air conditioner. Filters in air conditioners are designed to gather dust (and occasionally other pollutants such as pollen and bacteria). Still, if they aren't cleaned regularly, they can clog and collect moisture, leading to mould growth.
Cleaning your air conditioner regularly helps improve its energy efficiency and minimize operating costs. The more it needs to work to move air, cool, or heat, the more clogged the dust filters and the machine's guts get.
AIR CONDITIONER CLEANING AND MAINTENANCE TIPS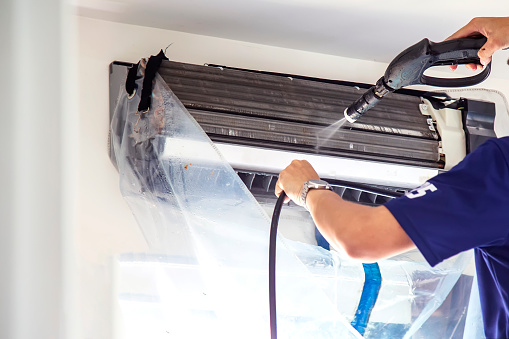 Here are some of the cleaning air conditioning suggestions to remember. These may be used to clean both windows and split type air conditioners!
Create an Aircon Cleaning Schedule
We should clean our air conditioner filters regularly. It's necessary because such filters are prone to filth, dust, and allergy particles. When filters become clogged, the air passing through them becomes dirtier and dustier, causing health issues such as allergies and asthma symptoms. That's why it's critical to clean your air conditioner's filter! You can clean it yourself with warm water and white vinegar solution.
It would be best to service your air conditioning units at least once every six months. Don't put off yearly maintenance because the problem(s) with the machine may worsen.
Schedule Professional Maintenance
With an air conditioner, many things that you can't see can go wrong. These items can be checked by a skilled technician, including:
Electrical components
Coolant levels
Mechanical components
Duct integrity
Having a professional come in once or twice a year can ensure that your air conditioner lasts as long.
Mould Prevention: Clean the Condenser Coils & Water Pan
Dirty air filters may harm the evaporator and condenser coils of the air conditioner. Make sure to clean these coils as well to avoid any malfunctions. Remove the dirt and dust from the coils with a soft bristle brush and a spray of a home cleaner. However, avoid bending the coil fins at all costs. After that, clean the water pan or the unit's base with warm water and white vinegar solution. These are required to keep moulds from growing.
Change Air Filters
Air filters are built into your HVAC system to trap dust, pet hair, and other impurities. These filters keep pollutants from interfering with the operation of your system.
Those filters become filthy or clogged over time. A clogged air filter can produce ice on your air conditioner, forcing it to work more than it needs to. You can avoid this problem by changing your filters once a month.
Clear Nearby Plants and Bushes
To work properly, your air conditioner needs free-flowing air. The airflow is obstructed as plants, flower gardens, grass, or weeds grow around the unit. Once again, it makes the unit work harder than it needs to.
Remove any plants that have sprouted near the device. It ensures that the device receives sufficient air. As a result, your home's unit will be more efficient.
Always Inspect Your Aircon Unit Regularly
Aside from the filters, the unit's components - wiring, switch, and condenser fan – must all be checked. If there are any cracks in the fan blades, it's best to replace them. It would help if you also lubricate the fan motor bearings. It's also a great idea to double-check that your thermostat maintains your home at the proper temperature. Also, keep an eye out for any signs of overheating.
Call a Professional if Problems Arise
The most common problems with window air conditioners are ice build-up and the device turning on and off repeatedly. Such problems might be resolved by cleaning or repair services. Have it checked before tossing it out or considering purchasing a new one.
Replace Your Aircon Unit After Five Years
However, if you've had your air conditioning unit for nearly five years, it's time to replace it. The unit has served you well for a long time, and the difficulties are likely to return. It's more cost-effective to acquire a new machine if you need repairs now and again. Furthermore, air conditioners that are five years old are more likely to use more energy. As a result, the excessive electricity bills are most likely the result.
HOW TO CLEAN YOUR AIR CONDITIONER'S FILTERS AND LOUVRES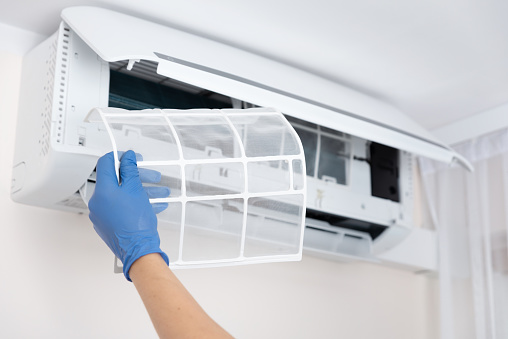 Clean the dust filters in the interior unit.
Please clean the dust filters in the indoor ac unit regularly. The more the aircon has to work to push air through the filter, the more clogged it becomes. It could result in greater operating costs.
It's usually a simple issue of removing the filter by snapping out the plastic cover. Use a small stepladder if you can't reach the indoor unit easily.
According to the manufacturer's recommendations, the dust filters should be cleaned every few weeks, although it depends on how frequent you use your air conditioner. The more you use it, the more frequently you should clean the filters should. At the very least, clean them once or twice a year. If you primarily use the unit in the summer, clean the filters in the spring to ensure that it is ready for the peak season and then again after the summer is through.
Some types also contain a removable and washable air purification filter (such as an ionizing filter). Depending on usage, this sort of filter will need to be updated, perhaps every year or two.
Check the instructions below for how to clean or replace this filter.
Take the dust filters outside and give them a good shake or brush. You can generally vacuum them for a thorough clean - if you have one, use the vacuum cleaner's dusting brush head.
If the dust filters are filthy, they can be washed in warm water with a light detergent and rinsed clean. Before placing them back in the unit, make sure they're thoroughly dry.
HOW TO CLEAN YOUR AC UNIT'S OUTDOOR UNIT
It would help to clear the area around the outdoor compressor unit of grass and plants. Then, regularly brush away dust, leaves, and cobwebs.
Cleaning the air intake with a vacuum cleaner can help remove dust from the interior.
We don't recommend opening up the machine to clean its internal components; that's something best left to an expert.
AIR CONDITIONER CLEANING CHEAT LIST
Every Use
Use the 'dry out' program if your air conditioner has it. It evaporates the moisture condensed on the heat exchanger, avoiding mould growth and bad odours.
Bi-Yearly
Clean and replace the dust filter screens in a split-system air conditioner's interior unit or as directed by your ducted system's instructions. If your aircon is always on, you live in an extremely dusty area, or you notice a considerable decline in performance, do this more frequently.
Clean any additional filters, such as air purifying filters, according to the manufacturer's instructions.
Wipe off the interior unit and any ducts or vents with a soft, moist cloth from both inside and outside the unit (as far as you can safely reach).
Yearly
Remove weeds, obstacles, spider webs, and other debris from the outdoor unit with a soft brush or broom.
AIR CONDITIONER CLEANING KITS
HVAC Shop offers different aircon cleaning equipment, including cleaning kits. Check out what we offer below.
Split AirCon Cleaning Kit Set - Ac2
The AIRCONcareTM Kit allows any homeowner to clean their own ductless split air conditioner fan coil without dismantling it. Our system's secret is in the cleaning solution, a "super-detergent" that successfully removes all traces of biofilm without causing any damage to the air conditioner.
Our AIRCONcare cleaning solution is very good at dislodging and dissolving bio-slime, the "jelly substance" that builds up on your air conditioner cooling coils.
It's made specifically to protect the blue epoxy cover on cooling coils.
Split AirCon Concentrated Cleaning Set Kit - Ac4
The AIRCONcareTM Concentrated AirCon Cleaning Set Kit was created to allow homeowners to clean their ductless split aircon fan coil system and not having to dismantle it. Our system's secret is in the cleaning solution, a "super-detergent" that successfully removes all traces of biofilm without causing any damage to the air conditioner.
The unique Long Nozzle Sprayer is designed to mix 50ml of AIRCONcareTM Concentrate with 500ml of water.
Bio-slime is easily dislodged and dissolved with our AIRCONcare cleaning solution. The "jelly substance" that builds up on your air conditioner cooling coils.
It's made specifically to protect the blue epoxy covering on cooling coils.
Hydrocell A/C Clean Kit
Adjustable shoulder strap
Wheels on base
12V cordless power supply
Extra-long hose NOW 7.0M
Adjustable alloy spray nozzle
Removable water tank
Rechargeable battery
17 Litre water capacity
Snap fittings for easy use
Mesh Packets to hold hose and fittings
Hydrocell Pressure Washers and Hydrobags have quickly become the sought after tools for cleaning split systems and air conditioners. We've created and joined together this fantastic bundle to help you save money.
Set up your team with these fantastic kits to make periodic maintenance simple and profitable.
AIR CONDITIONER CLEANING WITH CLEANING KITS FROM HVAC SHOP
HVAC Shop encourages everyone to properly take care of their aircon units, including cleaning them the right way. With the help of our air conditioner cleaning kits, you or your clients will get better and uncompromised air quality.
Check out our other HVAC cleaning tools like aircon cleaning bags and more! We offer nothing but the best quality coming from the best brands like Mastercool, Robinair, Yellow Jacket, Fieldpiece, etc.